Current Need
Join with and support the mission and ministry of Mount Hermon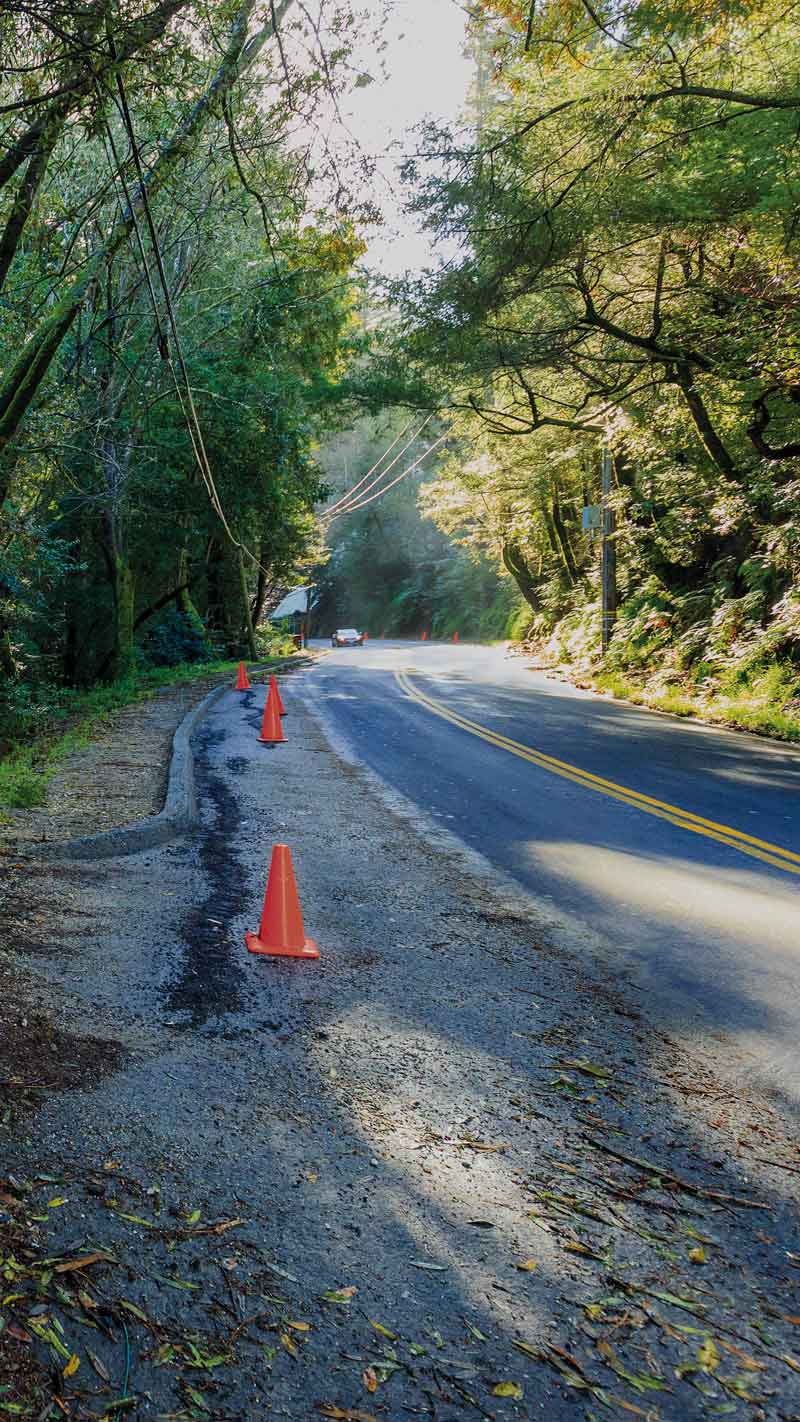 Help secure Conference Drive before the first rains arrive.
C an you imagine getting to Mount Hermon full of that anticipation and excitement for your week only to be met with a collapsed Conference Drive and the realization that the main artery to Mount Hermon is closed.
We need your help to not let this happen. This road that is critical to fulfilling the mission of Mount Hermon, proclaiming Jesus Christ as Lord and Savior, is in danger of collapsing.
This past winter, Mount Hermon survived a non-stop series of storms unlike anything we have experienced in over 30 years. We thank God that He kept our campers and guests safe during those storms. After the rains subsided, we discovered some significant damage to Conference Drive, and sought out a Geo Technician to help assess our next steps. His evaluation revealed that the damage was a symptom of something MUCH bigger—the entire hillside had moved! Just beyond the bridge, there is a 110-foot section of hillside that has shifted both above and below Conference Drive.
The message was clear, we must take immediate action to stabilize Conference Drive and the hillside before winter arrives!
STEP ONE
The first step is to secure Conference Drive itself. This will require:
• Thirty concrete stitch piers, each 2-ft in diameter, to be drilled down to bedrock in the hillside below Conference Drive
• Re-compacting and grading of the road
• Laying fresh asphalt
STEP TWO
The next step is to stabilize the hillside above Conference Drive. This will involve:
• The installation of ten concrete piers into bedrock
• A new retaining wall to hold back the hillside
• A new drainage system to reduce any further erosion
Time is short and the challenge is significant.
Construction time for step one of this project is approximately six weeks, which means we only have a short window of time after Labor Day Family Camp to secure Conference Drive before the first rains arrive in October.
The bids for this project are coming in at just over $500,000. Thankfully, our insurance will cover everything over our $250,000 deductible.
"If this road closes, no one can come and hear about Jesus. Clearly, we have to keep the road open."
This is where we need you!
First, we need your prayers as we move quickly to secure this main artery into Mount Hermon by October 15. Please pray for the rains to hold off, for the safety and security of the crews that will be working, and for the hillside to slow its movement.
Secondly, while we are deeply grateful for insurance, the deductible of $250,000 is a significant challenge and we need your help. We ask that you prayerfully consider a gift to help meet this crucial need, which will secure the roadway to Mount Hermon and prevent this ultimate roadblock to ministry.
Years ago when facing a similar situation, one of our faithful donors shared, "If this road closes, no one can come and hear about Jesus. Clearly, we have to keep the road open." I could not agree more. Conference Drive is where the rubber meets the road to ministry!
With such a short window of time to accomplish this task, please pray with us that God will work in big ways to provide the finances needed to keep this mission critical road open.


For King and Kingdom,



J.R. Loofbourrow
Vice President of Advancement


P.S. To help secure Conference Drive for generations to come, please send your gift by October 1.
The rains arrive soon, and we need your help!